Consult a medical professional at the walk-in clinic
Anyone can come to the walk-in clinic at the Centre Médical Fontainebleau. However, if you have a family doctor in another clinic we suggest you try to consult them first. This will make it easier for you to receive the appropriate medical follow-ups. If your family doctor is at the Centre Médical Fontainebleau, it is important you try to consult them first. Please check the walk-in clinic schedule to see when your doctor is on call. Click here to see the walk-in clinic schedule →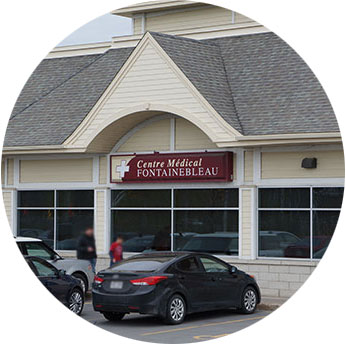 CSST follow-up
Preferably, your treating doctor should be the one following up with you after your work accident. In an emergency, the doctor on call at the clinic can assess you and refer you to your treating doctor. If you do not have a family doctor, you should try to see the same doctor during follow-up visits. Check the walk-in clinic schedule to see when your doctor is on call. It's important for you to show up when they are on call or else your appointment could be rescheduled at a time when they are not at the clinic. Please bring any forms, physical therapist reports, and other relevant documents to all your appointments. Please remember to mention to the staff that you are at the clinic for a CSST case.
NEW OPERATION to register for the walk-in clinic
Click here for our contact details →
What to bring:
Please bring your health insurance card when you come to the Centre Médical Fontainebleau. If you cannot have it with you at your appointment, please contact the Régie de l'assurance maladie to get a temporary attestation or a renewed card. http://www.ramq.gouv.qc.ca/fr/nous-joindre/citoyens/Pages/nous-joindre.aspx If you do not have a valid car, you will have to pay for your consultation and then get reimbursed later by the Régie. No exceptions will be made.
Relevant medical information
List of your medication
Form, if applicable
If you live in another country or province, you will be billed for the medical consultation. We will provide you with a receipt so you can get reimbursed by your insurance company or governmental service.
Radiography Please note that we do not offer radiology services on-site. We do however have an agreement with Imagix (http://www.biron.ca/fr/radiologie?gclid=CLeHsIi1s8ACFcZDMgodl28Adg) ) in Blainville and Ste. Thérèse that lets our patients quickly access radiography services (without a prior appointment) and lets our doctors quickly get the results via the internet. Travel Clinic The Centre Médical Fontainebleau does not offer any travel clinic services. For any questions or vaccinations required for travel, please consult a travel clinic in your area. Unfortunately, we are unable to provide any pre-travel health services.