The Centre Médical Fontainebleau is a FMG
What is a FMG?
A FMG is a family medical group, a group of family doctors who work in collaboration with other healthcare professionals, including clinical nurses and nursing assistants, nutritionists, and psychologists, among others. A FMG's goal is to make it easier for patients to access healthcare services. Opened in 2004 and classified as a FMG in 2009, the Centre Médical Fontainebleau's staff includes 13 general practitioners, 3 clinical nurses, 4 nursing assistants who take care of patients at the walk-in clinic, and our administrative and clerical staff. To make obtaining medical services easier, the Centre is open 363 days, year-round.
Patients of a family doctor who is part of our FMG automatically become patients of our FMG and can benefit, with a referral, from a host of nursing services provided by our clinical nurses and supervised by the attending doctor.
Click here to see what services we provide →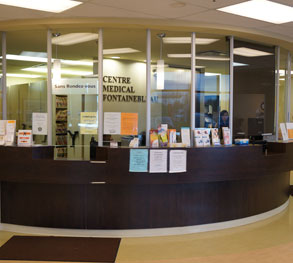 Our team
| | |
| --- | --- |
| Dre Pascale Auger | Montréal '99 |
| Dre Brigitte Bédard | Laval '85 |
| Dr. Patrice Bellefeuille | Laval '95 |
| Dre Hélène Daneault | Sherbrooke '85 |
| Dre Geneviève Hélie | Montreal '89 |
| Dr. Patrice Kretz | McGill '84 |
| Dr Pierre-Étienne Magnan | Montréal '99 |
| | |
| --- | --- |
| Dre Anne-Marie Pelletier | Montreal '00 |
| Dr. Jacques Rozon | Sherbrooke '82 |
| Dre Catherine Saulnier | Montreal '90 |
| Dre Claudie Gauthier | Montreal '00 |
| Dre Geneviève Lavergne | Montreal '01 |
| Dre Hélène Gauthier | Sherbrooke '00 |
Clinical nurses
| | |
| --- | --- |
| Catherine Thouin | |
| Catherine Desjardins | |
| Isabelle Benoit | |
Walk-in clinic nurse
| | |
| --- | --- |
| Patricia Doré | Auxiliary Nurse |
| April Critch | Auxiliary Nurse |
| Annie Cloutier | Auxiliary Nurse |
Clerical staff
| | |
| --- | --- |
| Suzanne Vallerand | Director |
| Linda Moreau | Medical office assistant |
| Isabelle Perron | Digitization technician |
| Natacha Demers | Medical office assistant |
| Julie Laplaine | Medical office assistant |
| Catherine Brault | Medical office assistant |
| Clara Ouimet | Medical office assistant |
| Maxime Héroux | Medical office assistant |
| Anne-Marie Leclerc | Medical office assistant |
Other health professionals
| | |
| --- | --- |
| Social workers | Michelle Lemay and Hélène Massé |
| Clinical Pharmacist | Émy Dugré |
Other services (fee $) :
| | |
| --- | --- |
| Nutritionist – Dietitian | Francine Allard 514-570-8015 |
| Orthotist | Dino Barreta, J.E. Hanger (private $) tel 450-687-5520 |